Posted:
Wednesday, June 3, 2015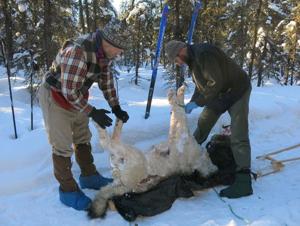 FAIRBANKS — On Presidents Day in 2014, a musher in the Chena State Recreation Area stumbled on a wolf carcass in the middle of the Nugget Creek Trail. Right in the middle, in fact. Her reluctant dog team had to run over the carcass to pass it.
Ned Rozell, a science writer at the University of Alaska Fairbanks Geophysical Institute, heard about the wolf and headed to the site with Tom Paragi and Mike Taras, biologists with the Alaska Department of Fish and Game, and Cam Leonard to investigate what might have killed the large, cream-colored female wolf, and why the carcass was left on a well-used snowmachine trail.
Rozell described the wolf in his Alaska Science Forum column: "Stretched out on the snow as it was when the musher came upon it five days earlier, the wolf has feet pads as large as a man's hand. Its extended legs are surprisingly long. The wolf has perfect toenails the size of an eagle's talons."
Paragi's first instinct was that the wolf had been shot and killed. But if so, why would the shooter not salvage the carcass? Even a wolf killed in self-defense must be skinned and reported to the Department of Fish and Game. Clues in the snow surrounding the carcass raised more questions.
Rozell explored those questions in two columns published in late winter 2014. He will talk about the mystery of what killed the South Fork wolf during a lecture June 10 as part of the University of Alaska Summer Sessions Discover Alaska series.
"This might be my favorite two columns in 20-plus years of writing them," he wrote earlier this week. "I loved the combination of getting out with good people in a place I know. Also that everyone, including the biologists at first, assumed they knew what killed the wolf. But the cause of death was not their first guess despite it being fairly common. I especially liked all this drama unfolding a few miles off Chena Hot Springs Road."
Rozell and his companions took the wolf carcass to wildlife veterinarian Kimberlee Beckmen, who dissected the carcass and discovered the wounds that led to the otherwise healthy, 5-year-old female's death. Together with Fish and Game biologist Mike Gardner, they laid out the fatal scenario.
Gardner said the death of the South Fork wolf is not unusual, Rozell wrote in the second column. "This wolf lived longer than most. Evidence that wolves bedded down for some time on a hillside less than 100 yards away could suggest the South Fork wolf was one of the parent wolves of a pack. Parent wolves are almost always the ones that kill large prey like moose.
"'She was an important wolf,'" Gardner said.
What: Ned Rozell on The Mystery of the South Fork Wolf
Where: Murie Building Auditorium on the UAF campus