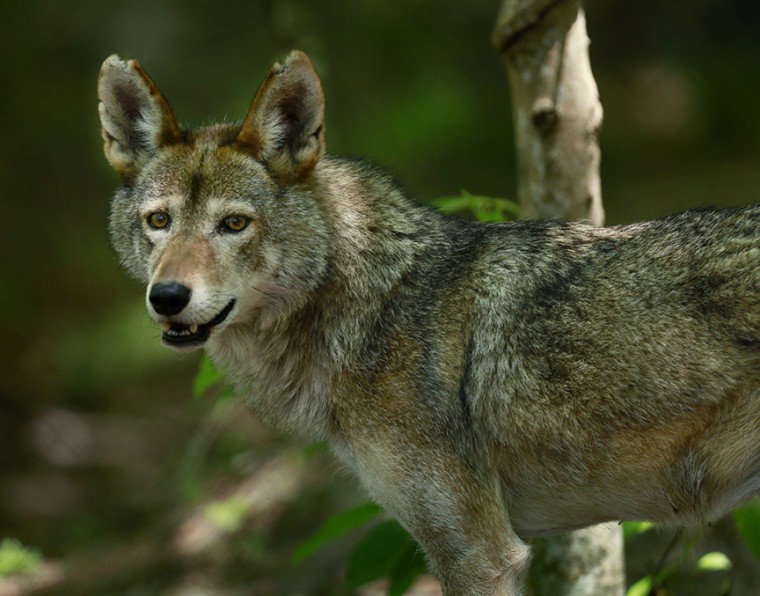 HYDE COUNTY, N.C.
Wildlife protection advocates are calling for federal authorities to care for the puppies of a rare red wolf legally shot and killed on private property last week. "The loss of this mother wolf is yet another blow to the highly endangered red wolf," said Kim Wheeler, executive director of the Red Wolf Coalition, in a statement. "That mother's remaining puppies are in danger now, and her future puppies will never be born."
A landowner in Hyde County in northeastern North Carolina reported to the U.S. Fish and Wildlife Service he shot the wolf on June 17. The wolf showed signs of nursing, but it is unknown how many or where the puppies might be, said Pete Benjamin, a Raleigh field office supervisor for the Fish and Wildlife Service. The puppies would have been nearly weaned by now, he said. "There is very little that can be done," Benjamin said.
The wolf had left the safer confines of the Alligator River National Wildlife Refuge, where fewer than 100 people live as an experimental effort to preserve the rare species in the wild. The landowner had unsuccessfully attempted to capture and return the wolf to federal land, he said. The law allows landowners to kill wolves persistently living on their property.
The landowner did not allow federal biologists on his property to help capture the wolf, Mike Senatore, vice president of conservation law for Defenders of Wildlife, said in a statement. "The Service should not have permitted a wolf to be killed in this circumstance," he said.
Accounts from the 1700s indicate red wolves once roamed the southeastern United States. The predator was listed as an endangered species in 1967 and declared extinct in the wild in 1980. Four captive-born pairs were introduced into the Alligator River National Wildlife Refuge in 1987. The population grew for years before falling in 2013 to fewer than 100 for the first time in more than a decade.
Some private landowners maintain the wolves often leave the refuge, breed with coyotes and are pests that threaten livestock and pets.
source