Posted:
Wednesday, October 1, 2014
Landowners have been reporting wolves
on the prowl, attacking livestock in areas that include Aitkin, Isle and Malmo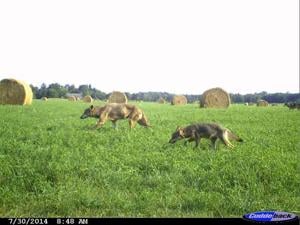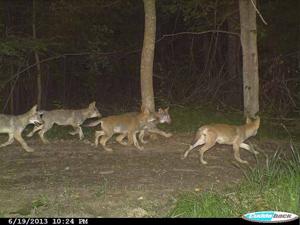 A normal morning on the farm for John Walters nearly turned tragic when a pack of four wolves descended on his dog, Silo.

The wolves first focused their attention on the dog, but when the tractor John was operating didn't seem to scare off the wolves, Walters also put himself in harm's way.
"I've seen a lot of wolves in my day," said Walters, a fourth-
This photo was taken with a trail camera one-half mile west of the Heimark farm.
generation farmer on a piece of property near Bear Lake northeast of Isle. "But I've never seen them that aggressive."
Walters said he was working in a wide-open hay field and was hauling wood when he saw the wolves take notice of Silo from about a quarter of a mile away. Walters' tractor sustained some damage from the field as he tried maneuvering the piece of equipment to scare off the wolves.
In the end, Silo, a golden lab weighing 96 pounds, escaped with a few bite marks and some rips and tears to his hind end.
But it was the reaction of the wolves to the tractor and their bold attempts to attack the tractor that got Walters' attention.
John's wife, Sandy, took Silo to the vet and made sure he was up on his rabies shots – although wolves don't carry the virus, John said, "you never know." John added, "my wife seeing the attack … that was kind of crazy for her."
The dog was lucky to survive, but the Walters may not have been so fortunate had the wolves been at the property 20 minutes earlier when the cattle were in the field.
John said he doesn't want to make a habit of having to bring a gun with him while he's on the tractor, and he said the attack won't change his habit of working out in the field.
Reporting encounters
No report was filed by Walters after the incident with his dog, but already this year the Department of Natural Resources in Aitkin has confirmed three depredation events.
When a depredation occurs with wolves, a conservation officer is sent out to investigate, explained Robert Gorecki, District 10 wildlife supervisor for the DNR.
On Sept. 15, conservation officer Scott Fitzgerald was notified by William Reese that the remains of a cow had been found which had been missing for over a month. Fitzgerald went to the farm just a few miles outside of Aitkin and was able to determine from damage to the carcass that wolves were involved. Canine tracks consistent in size and shape with a wolf and multiple tracks were found at the scene. Neighbors had also reported seeing wolves and had pictures on trail cameras.
In Glen Township, John Apple saw a neighbor's cow being eaten by a wolf and shot the wolf on site. He reported it to Eric Heimark, who owned the calf. Heimark then reported the incident and officer Gorecki responded. The attack occurred in a pasture less than 50 feet from a road, 100 feet from the barn and 300 feet from Heimark's house.
Early in September a miniature horse was killed by wolves in Malmo Township on the property of Karen Elias.
Once a confirmation of wolves is made, a trapping zone can be set up that is regulated by state or federal trappers. A farmer can also be reimbursed for a lost animal through a Farm Service agent.
In all three cases in Aitkin County, a federal trapping zone was set up, and thus far two wolves have been trapped in Malmo Township, four wolves have been trapped near the Heimark residence and no wolves have been trapped near the Reese property. All three trapping zones are still active.
According to Gorecki, all three instances of wolf depredation have had paperwork filed by the owners to receive reimbursement to get fair market value of the animals.
Within the state of Minnesota, two wolf zones – A and B – operate under different circumstances for private land owners to kill a wolf.
In the A zone, which covers most of the northeast portion of the state and half of Aitkin County, farmers or animal owners must first witness a wolf actively stalking or attacking before shooting a wolf.
In the B zone, farmers and property owners have more lax rules on taking wolves – if a wolf is in proximity to an animal, the owner has the right to kill the wolf, according to Gorecki.
"Owners cannot trap on their property unless they're within a regulated state or federal program," said Gorecki.
Anyone living in a wolf-populated area should be aware this time of year as wolf pups are quite active, said Gorecki, adding, "They're leaving the dens, but reports aren't worse than previous years, and overall instances are pretty low."
source