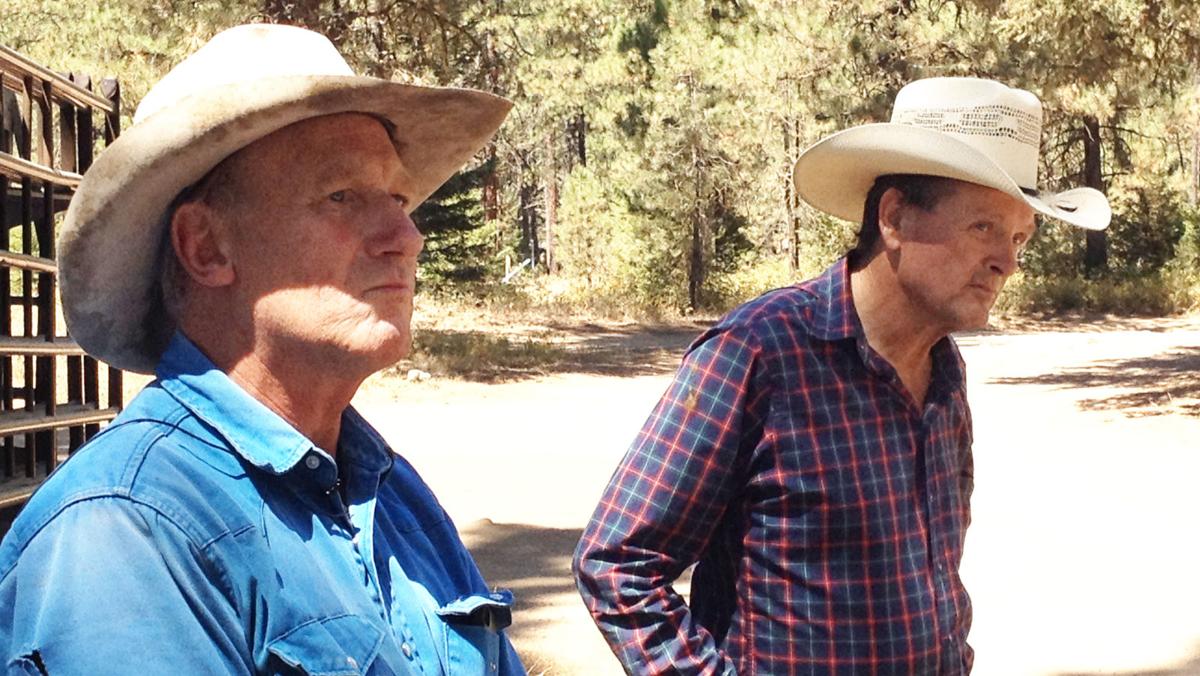 Ellensburg rancher Kayser doesn't welcome animals but monitors them
CLE ELUM — Like anyone whose livelihood is subject to the kindnesses and cruelties of Mother Nature, Sam Kayser is a pragmatist.
When wolves became a fixture on the very Teanaway landscape over which he had been grazing cattle for nearly two decades, the Ellensburg cattleman wasn't pleased.
He was, yes, pragmatic.
When the Washington Department of Fish and Wildlife came up with agreements calling for livestock producers to employ state-approved, non-lethal means to minimize wolf-livestock conflicts in exchange for financial consideration should that predation occur, many ranchers were adamantly opposed.
Not Kayser. He was the first to sign the agreement. For a while, in fact, he was the only cattleman in the state to do so.
Did that cost him any friendships around the state's cattle industry?
"I never got in any fistfights at the cattleman's association," Kayser cracked in his folksy twang. "Yeah, there's some hard feelings, but as far as I know it's still America."
Washington Cattleman's Association executive director Jack Field had been part of the wolf working group that helped craft the agreement, and while the association clearly didn't like the idea of wolves returning to Washington, it recommended its members sign the agreements.
Their argument: Wolves were coming, and doing nothing won't change that. Being proactive — and pragmatic — will at least make the transition less traumatic.
"They needed somebody to sign up for it, and I signed up for it," Kayser said. "But I had other producers tell me, 'I think by signing that, you're telling them it's OK for the wolves to kill your calves.' I said, 'If that's the way you feel, fine, but that isn't the way I feel at all, that I'm giving the wolves a blank check to have at 'em.
"But we're stuck with 'em, and I want to think that there's room our here for all of us. And that means wolves, and coyotes, and the 80 head of deer that come in my hayfield every night."
Kayser grinned, and added, "As long as they're not elk, I'm willing to do it, because they look pretty cool out there."
For four years, Kayser's cattle — he runs roughly 200 cows and their calves annually in the Teanaway — coexisted with the wolves, in part because of the presence of his experienced range rider, Bill Johnson.
Sooner or later, both Johnson and Kayser knew, they would lose an animal.
"A predator, from what I've read and seen, they will probe a food source: How difficult is this one going to be? Am I going to get my teeth knocked out?" mused Johnson.
In recent months, he added, when he's been out moving cattle with his dogs, he has occasionally seen a cow turn around and bite at any dog that gets too close.
"And I think," Johnson said, "that's because they've been probed by the wolves."
Two weeks ago, the wolves killed and feasted upon one of Kayser's yearling steers.
But just a week after that loss, when WDFW officials asked Kayser if he'd be willing to discuss with media members his continued willingness to employ the state's predation deterrents, Kayser did so.
"I'm not excited about it, but (wolves) are coming back whether I'm excited about it or not, so we've got to figure out how to deal with it," Kayser said. "We've been doing it four or five years and we just had the one problem last week — but that doesn't mean the program is a failure, (if) after five or six years you have one predator that doesn't realize the bounds.
"To say it's never going to happen is wrong, but I don't think it's the end of the world. By the same token, I might not be so philosophical about it if Fish and Wildlife was not willing to compensate us for them. And one's a lot different than five or six."
Kayser expressed empathy for the livestock producers in northeastern Washington, where numerous wolves among the area's dozen verified wolf packs have attacked livestock. One pack, the Wedge, was removed by WDFW sharpshooters after repeated cattle predation, though two wolves — perhaps dispersers from other packs or offspring of killed Wedge Pack members — are still in the same area.
As long as they're not giving him as much grief as wolves are doing to Stevens County cattlemen, Kayser remains philosophical. Asked why people have such a visceral reaction to wolves — as opposed to, say, cougars — he said he doesn't believe he's qualified to answer.
"I think we've seen movies at the movie theater about wolves and how vicious they are or whatever. Maybe they're less stealthy," he said. "I guess it's bothersome that they run in packs.
"Because they're just like teenaged kids: Two together, that's fine. You get three, you start getting nervous and when there's five, there's gonna be trouble."
Coincidentally, the number of wolves in the Teanaway Pack at last count is five.