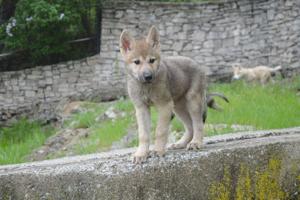 Wolf pup
By Jessica O'Brien
Saturday, May 9, 2015
Washington Park Zoo introduced three new wolf pups on Saturday – two females and one male – who will be on display in a new exhibit later this month. The zoo is asking for the public's help in naming the wolves and will hold a naming contest now through June 21.
MICHIGAN CITY — Michigan City's hometown mascot – the Wolves – are represented once again at Washington Park Zoo as three young timber wolves now call the zoo their home.
Although the last time Washington Park Zoo hosted a wolf exhibit was during the 1980s, a new habitat is being built on the site where the zebras are currently featured. It will be open later this year for the public to see these timber wolves – also known as gray wolves.
Zoo Director James Huss called 2015 "the year of the wolf" in a news release issued by the zoo.
"Our hope is that the exhibit will bring some awareness of the wolves' wild plight through interpretive graphics, keeper chats and educational experiences," Huss said.
The release said the timber wolf is "endangered or threatened depending on geographical area. In the late 1960s, the population was reduced from 250,000 in the contiguous States to about 450."
While these three cubs have been in the care of zoo workers for a few weeks now, they won't be ready to meet the general public for a few more weeks. Both females, which are sisters, are currently 9 weeks old while the lone male wolf is now 12 weeks old. The exhibit is expected to open in July.
Huss said all three of these wolves were hand-raised, making them very socialized. Eventually zoo officials expect to add one more male to the exhibit, although Huss said typically only one female from a pack will breed.
Any offspring from these animals will be sent to make a home at another zoo.
Currently unnamed, the zoo will hold a naming contest for the new Michigan City wolves, asking the public to suggest names for all three pups for a donation of $5. The contest will run through June 21 at which point three names will be chosen and announced during the zoo's Kids Day event.
The proceeds from this contest will go toward caring for these wolves as well as education about wild wolf conservation. Donations can be made by phone at 219-873-1510, mailed to 115 Lakeshore Drive, or in person at the zoo.
Washington Park Zoo is open daily at 10 a.m. with the last admission sold at 3 p.m.