Posted: Nov 29, 2014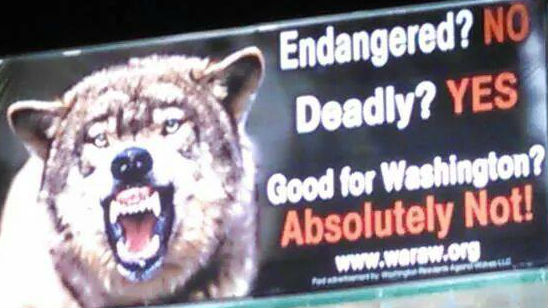 A billboard campaign in Washington aims to reignite a debate that splits the Pacific Northwest: Do wolves belong? Photo: Jim Sutton
MOSCOW, Idaho -
A billboard campaign in Washington state aims to reignite a debate that splits the Pacific Northwest: Do wolves belong?
The four billboards near the Idaho border by Washington Residents Against Wolves calls for the state to decrease the wolf population.
Group spokeswoman Jamie Henneman says wolves kill livestock, endanger elk populations and pose a threat to the public.
Ecologists dispute that claim, saying wolves are scared of humans and are crucial to the habitat.
Among the most disputed aspects of the campaign is the claim that wolves are not native to the area, and compete with other predators for scant resources.
Wildlife officials have repeatedly said the species of gray wolf introduced, canis lupus, is the exact species that once thrived in the Northwest.
source