Mexican gray wolf supporters Sue Gunckel, right, and Linda Starr hold signs as the State Game Commission discusses an appeal filed by the U.S. Fish and Wildlife Service to release wolves in the state during a meeting in Albuquerque on Sept. 29, 2015. The commission upheld a previous decision by Game and Fish Director Alexa Sandoval to deny permits to the federal government. Susan Montoya Bryan/Associated Press file photo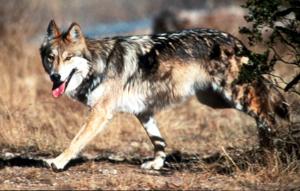 Posted:
Thursday, October 8, 2015
More than three dozen environmental groups asked the federal government Thursday to release at least five packs of Mexican gray wolves in New Mexico to bolster the genetics of the endangered predators.
The groups sent a letter to Interior Secretary Sally Jewell and U.S. Fish and Wildlife Director Dan Ashe.

The request came after New Mexico wildlife officials declined to issue permits to the U.S. Fish and Wildlife Service for releases earlier this year in Gila National Forest. The agency also was denied a permit that would've cleared the way for more cross-fostering of captive pups by pairs in the wild.
The groups asked for federal officials to consult with independent scientists as well as state and local government entities to come up with a multi-year schedule for releasing wolves to address inbreeding within the wild population.

"Scientists warn that the lack of timely releases of wolves to the wild jeopardizes the recovery of this unique subspecies of the gray wolf and may doom it to extinction through inbreeding depression," the letter states.

The Fish and Wildlife Service, which oversees the wolf recovery effort, noted that improving the gene pool has been a driver for recent decisions aimed at expanding the program and that the agency has an obligation under the Endangered Species Act to recover the subspecies.

Members of the State Game Commission and the director of the New Mexico Game and Fish Department have voiced concerns about new releases because the federal government has yet to update its decades-old recovery plan for the species. It could be the end of 2017 before that happens.
The Game and Fish Department, which withdrew from the recovery program years ago, also claims federal officials haven't done enough to analyze the social and economic effects of having more wolves on the landscape. Ranchers have been among the strongest critics, saying their communities and livelihoods are being threatened.

As part of the permit and appeal process, the Fish and Wildlife Service provided the state with numerous documents.

Despite the permit flap, the coordinator of the wolf program said last month that the agency plans to move ahead with releases given its statutory responsibilities.

There are at least 110 Mexican wolves roaming parts of Arizona and New Mexico.
Reintroduction started in 1998, but the effort has been hampered over the years by politics, illegal killings and other factors. Disputes over the program's management also have spurred numerous legal actions.
source