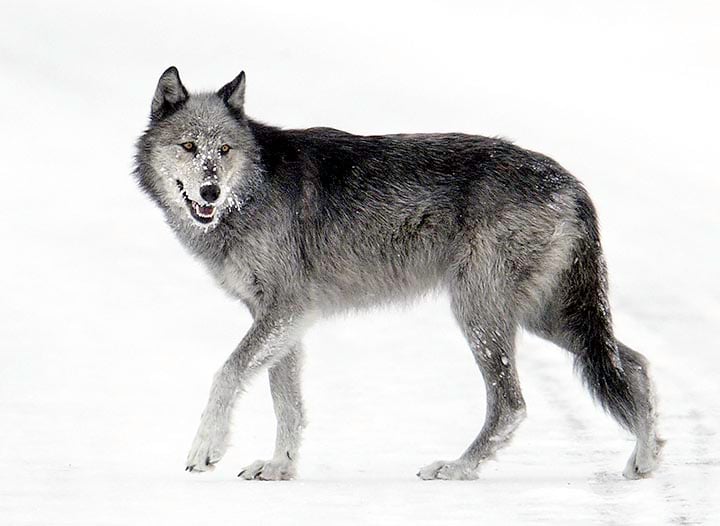 A back and gray female wolf named "Half Black" from the Druid pack stands in the road near Lamar River bridge in December 2003.
Posted:
Thursday, May 24, 2012
Commenters were concerned but calm at a Bozeman meeting Tuesday night on proposed changes to the state wolf hunt.
Montana Fish, Wildlife & Parks Region 3 director Pat Flowers welcomed around 50 people to the brief presentation intended to highlight lessons learned from two wolf seasons and to explain changes to the 2012 hunting season.

The main change proposed, and the one that has received the most criticism, is the addition of a trapping season. The season would run from Dec. 15 to Feb. 28 to avoid the time when bears are active, said biologist Howard Burt.
If approved, regulations would require trappers to attend an orientation. Trappers would also have to check their traps every 48 hours, although Burt did not address how FWP would enforce that.
The state wolf population continues to increase, so the proposal eliminates kill quotas in all but two hunting areas, replacing them with a general season intended to reduce the population to 425.
That was also the target population for 2011. But hunters' interest may be dwindling. Only 121 filled their tags in 2011, out of more than 18,000 tags sold. As a result, the season was extended through the end of January. This year, FWP proposes to extend the general hunting season until Feb. 28.
So far in 2012, 70 wolves have died, according to the May 11 FWP weekly report. Wildlife services or landowners killed 14, sportsmen killed 45 and at least 11 died in other ways such as auto accidents. Idaho officials killed two Montana wolves, which aren't included in the count.
Most wolf deaths are human-caused, Burt said.
FWP wants to increase the number of wolves killed during hunting season because fewer are being destroyed for killing livestock.
Burt displayed a chart showing that livestock mortality due to wolves has declined over the past three years after having increased for a number of years. During the first five months of this year, FWP confirmed that wolves killed 17 cows and eight sheep.
The FWP Commission gave initial approval to the hunting season changes after hearing comments from more than 60 people. Commissioners won't make a final decision until July 12. Public comment closes June 25.
Linda Oyama, a former taxidermist who lives in the Churchill area, said she plans on buying a trapping license. She asked Flowers if landowners could hire someone else to sit on their land at night to kill wolves.
"A rancher can't stay up all night," Oyama said. "(Flowers) said you could hire someone as long as they call FWP after they killed it."
Anne Barnhill said she was neither pro- nor anti-wolf but had questions.
"As long as livestock depredation is going down, I don't know why more need to be hunted," Barnhill said.
Ted Rechlin, who has spent months observing wolves in Yellowstone National Park, said he's relatively pleased with the plan.
"It's a lot better than Wyoming or Idaho," Rechlin said. "If wolves were as big and bad as people make them out to be, I'd be dead now."
People wishing to comment can visit
http://1.usa.gov/mt-wolf-hunt
.
source