How to give the myths about wolves even more publicity!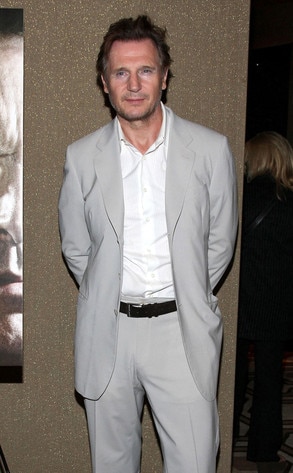 What's Wolf Jerky Taste Like? Just Ask Liam Neeson
(
This man is so on my $#*% list!)
Jason Kempin/Getty Images
Forget Team Edward, Team Jacob might have a new target:
Liam Neeson
.
The veteran actor made the shocking dislosure that he actually
ate wolf
to prepare for his role as a sharpshooter in his upcoming thriller
The Grey
.
Was it tasty?
"[Wolf jerky] was quite nice," the 59-year-old actor said Tuesday at a Times Talks panel in New York.
Director
Joe Carnahan
disagreed with the Irish star, pointing out that members of the cast and crew "got physically ill" after devouring the dog. "It was a mental reaction," he said, noting that the wolf had been "frozen for months."
In
The Grey
, Neeson's character comes face to face with wolves in the wild when his plane crashes in the middle of the Alaskan tundra. The Oscar nominee said the role required "basically no acting" because filming took place in "negative 37 degree weather."
source