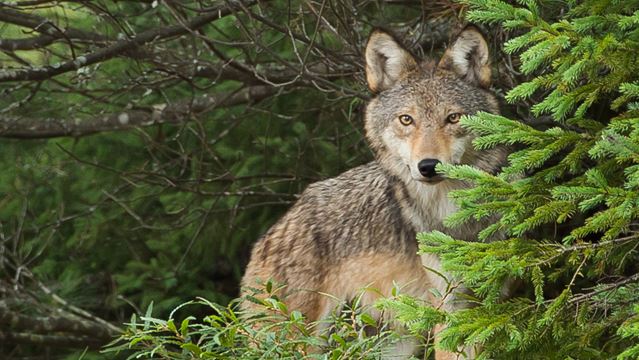 Wesley Liikane
Severn Bridge photographer Wesley Liikane spotted this Algonquin wolf in the southern reaches of Algonquin Park. The small, reddish coloured wolves are considered a threatened species in Ontario.
Huntsville Forester
By Samantha Beattie
MUSKOKA — The greatest threats to
Algonquin wolve
s are hunting and trapping. So much so, there are fewer than 500 adults remaining in Ontario, prompting the province to acknowledge the species as threatened.
Still, the Ministry of Natural Resources and Forestry has decided to allow hunting and trapping of Algonquin wolves and almost identical coyotes in "large parts of eastern and northern Ontario within the broader range of the Algonquin wolf," said spokesperson Jolanta Kowalski.
"This approach balances the economic and safety needs of local landowners and farmers with the need to protect this threatened species."
Normally under the Endangered Species Act, a threatened species and its habitat are automatically protected from harm. For Algonquin wolves and coyotes, the ministry has kept this rule intact in Algonquin Park, the 42 townships surrounding Algonquin Park and, as of this month, Highlands Provincial Park, Queen Elizabeth II Provincial Park and Killarney Provincial Park.
From Sept. 15 to March 31, Algonquin wolves and coyotes roaming everywhere north of Muskoka, other than the above noted areas, are fair game. South of Muskoka, wolves and coyotes can be hunted year round.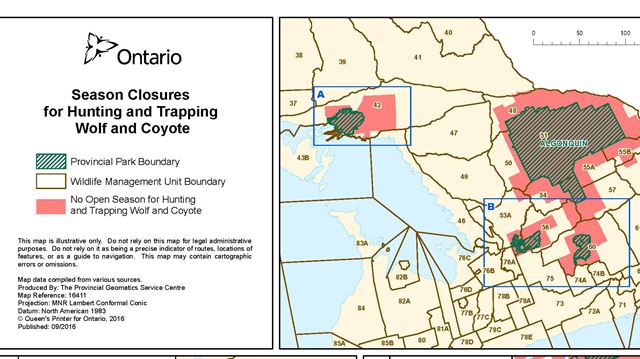 "I'm amazed the province wouldn't take the precautionary approach," said Hannah Barron, director of the grassroots conservation organization Earthroots. "The government understands full well that it has to protect the full range of wolves to protect populations."
About half of Algonquin wolves live in Algonquin Park, where hunting and trapping has been banned since 2004.
"The initial ban in 2004 appeared to enhance the ability of wolves to exclude coyotes and minimize hybridization," said Kowalski, referring to how under more stressful circumstances, wolves and coyotes crossbreed.
The research done in and around Algonquin Park showing wolves to be thriving should be reason enough to extend their protection, said Barron.
"The message the province is sending is that species at risk matter, but only around provincial parks," Barron said. "This decision is crazy to me because we know wolves travel through places like Muskoka. They need to be protected everywhere."
The ministry's decision is an interim approach "to protect the species" while the government looks at how to best accommodate hunters, wolves and the public, said Kowalski.
A public consultation was held between July 22 and Aug. 22. The ministry received 4051 comments about whether or not hunting and trapping of wolves and coyotes should continue.
Editor's note: This story was altered on Sept. 27, 2016 to clarify the area where hunting and trapping are allowed.