By: Judy Slate - MTN News
A Bozeman company that rents out wildlife to filmmakers and photographers is once again making waves with its work, this time coming under fire for a photo shoot involving a wolf inside a Virginia City bar.
Last winter, an employee of the Pioneer Bar received an unusual request.
"Oh, I don't think I'll ever forget it. They were doing an animal shoot in Nevada City and the photographer had been in here several times and he really liked it and he thought he should get a wolf onto the bar to take a picture," said Rozy, an employee of the saloon.
The photographer got what he wanted and
Animals of Montana
brought in a wolf for the photo shoot.
The bar was closed for a short time while the animal walked up and down the bar and the photographer snapped his shots.
But Animals Of Montana owner Troy Hyde did not have the necessary permits for the shoot and he was charged with a misdemeanor.
"The name of the charge is 'menagerie and zoo animals' and basically, in this case, Mr. Hyde was doing an exhibition of a wild animal somewhere that he didn't have a permit for," said Deputy Madison County Attorney Justin Ekwall.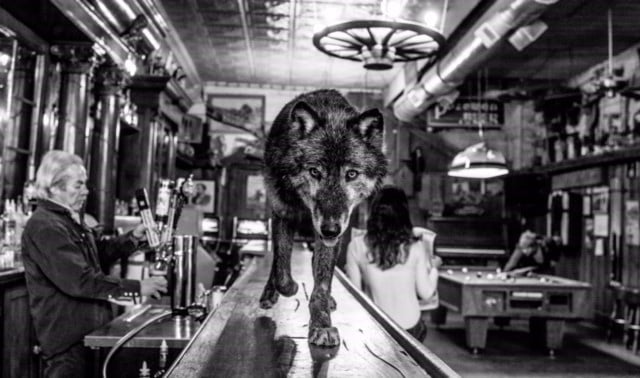 A wolf owned by Animals Of Montana, Inc. walks along a bar in Virginia City (Photo Credit: David Yarrow)
Animals Of Montana, which calls itself a wildlife casting agency and is located north of Bozeman, has had its share of bad press.
On November 4, 2012, an employee was killed by a captive brown bear on the Animals Of Montana grounds.
Just a few weeks ago, the company was doing a photo shoot in Detroit with a tiger and
a video surfaced
that appeared to show the big cat on the loose.
The trainer disputed those claims, saying he had control over the tiger all along.
During the shoot at the Pioneer Bar, Rozy said he asked several times how safe the shoot would be and was reassured it would be safe. He said the wolf's trainer and assistants were present the whole time.
"They were all over the place, they were ready if anything happened to jump in, but nothing happened," said Rozy. "The wolf was tame, I mean tame somewhat, it walked past me four times."
Even though nothing went wrong with the shoot, Hyde was found guilty of the charge against him, fined $500, and will be on probation for six months.