Posted:
Saturday, September 6, 2014
EUREKA, Mo. — The wooded hillside looked like countless others across Missouri on a hot summer day.
With one exception.

Resting in the shade of a tree was one of the last surviving red wolves left in the world.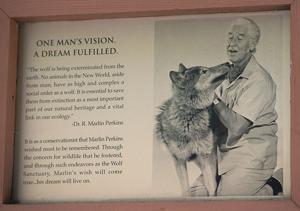 While this female warily tracked visitors, a male companion paced, then ran, then paced again, back and forth, aware that what was left of a white-tailed deer waited at the bottom of the hill, but the humans were uncomfortably close.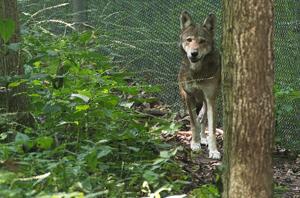 Long the villain of lore and literature, from Old World folktales such as "Little Red Riding Hood" to modern movies such as "The Grey," wolves are actually fearful of humans, preferring to keep their distance, explained Regina Mossotti, who is guiding the visitors this day. Mossotti is director of animal care and conservation at the Endangered Wolf Center outside St. Louis, which is on the forefront of efforts to save the red wolf and other endangered canids.

Smaller than the gray wolf, but larger than the coyote, the red wolf was once known throughout the Southeastern United States. Perhaps a hundred exist in the wild today. Another 200 exist in captive breeding programs around the country, including three currently at the Endangered Wolf Center in Eureka.

source