(Many thanks to the
Colorado Wolf and Wildlife
resource for first publishing this info in the US--they're great folks--please support their efforts!)
Jun 28, 2011
A UK first - Arctic Wolves arrive!
---
Category: General
We're delighted to announce the arrival of a wolf subspecies new to the UK, the Arctic wolf (
canis lupus arctos).
The three cubs, three months old, arrived earlier today on a flight from Canada and are getting used to the surroundings in their new home.
The cubs came to us from Parc Safari in Québec and we have two males and a female, named after Labradorian Inuit words for snow and ice.
The males are called Massak (pronounced "mas-sack") which means "soft snow" and Pukak (pronounced "poo-cack") which means "fine snow". The female is Sikko (pronounced "seeko"), which means "ice".
For a background to the wolves and their characters, see our
Wolf Print article
(PDF format).
We'll have a page with more information soon, but in the meantime here's a photo of one of the wolves leaving their travelling crate.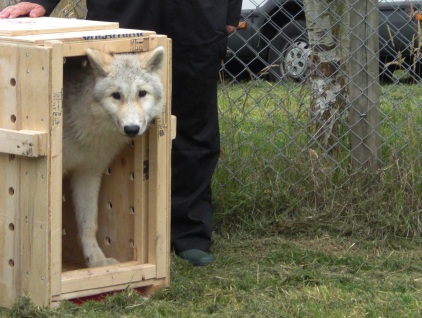 Source